On3 / On30 die cast West Side Lumber Co Shay 14/15
Photo from gearedsteam.com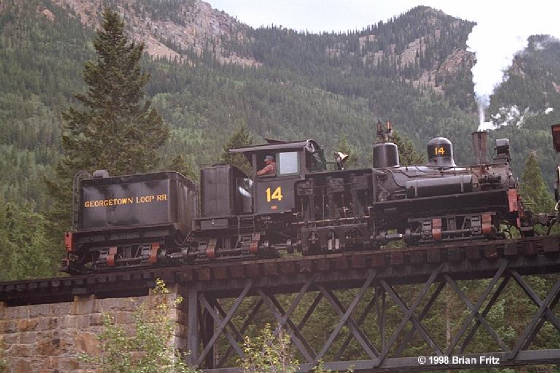 Announced October 15, 2011
| | | |
| --- | --- | --- |
| shop Number 2645 | | Built for: Sierra Nevada Wood & Lumber Co. |
Built:
05-20-1913
Class:
C
60-3
Trucks:
3
Cylinders:
[#-Diam x Stroke]
3 - 11 x 12
Gear Ratio:
2.211
Wheel Diam:
32"
Gauge:
36"
Boiler:
[Style - Diam.]
E.W.T. - 44.25"
Fuel Type:
Oil
Fuel Capacity:
1000 Gals.
Water Capacity:
2000 Gallons
Empty Weight:
As built
98,920
Information from Shaylocomotives.com
500 orders required for model to be produced
Current orders = 043
December 2013
I am working on importing a model with a reputable On3 dealer that has been in the hobby both as a dealer and modeler for a long time.

Our plans are to produce West Side Lumber Company shays 14 or 15 diecast in On3 and On30, painted and unlettered. This will be one model since they are nearly identical.

Preliminary design is to have them driven through the cylinder crankshaft as other On3 brass shays have been done in the past. An alternate pair of trucks in either gauge would be available for about $75 so you could swap back and forth from On3 to On30 at will.

Currently the manufacturer we have planned is a reputable one with a good track record of producing good running models on a timely basis.

Do not confuse this with MMI/PSC, it is not and has nothing to do with them.

This is currently planned as a reservation only model, so please don't sit on the side and think about purchasing one after they are produced. 500 orders will be required to start the project and they will only be available through us, no other dealers.

The model is estimated to cost between $600 and $700 without the extra pair of trucks.

I am compiling a list of interested persons and am requesting your name, address and phone# and what gauge you want and if you want a second pair of trucks in the other gauge. No money is due now!

Once we have a substantial list of people, we will finalize the project, announce the dealer and manufacturer. At that time the dealer will request for you to make an official reservation and down payment of $400 for each model you order. Please note, you will be paying the reputable dealer not me.

The time line from receiving all of the deposits to model production is currently estimated at about a year.

If you are interested please send me your info at killroy321@hotmail.com

The number of preorders will be posted and updated here so that you can track how close we are to producing the model.

Keep in mind that the more models that are produced the lower the price per unit will be, so tell your friends and place your orders.